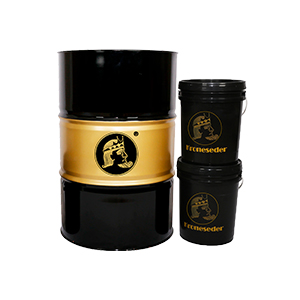 Fully synthetic antiwear hydraulic oil KSAG68
Fully synthetic fire-resistant hydraulic oil KHFD series is a kind of fully synthetic ester fire-resistant hydraulic oil with excellent performance and environmental protection. It has excellent flame resistance, excellent oxidation resistance and long service life. It is mainly used in hydraulic systems close to high temperature and fire source, especially in working environment with temperature up to 120 ℃.
Product advantages

Environmentally friendly, free of harmful substances, biodegradable;
Good flame resistance, high flash point and high self-ignition point;
Extremely high viscosity index and good viscosity-temperature performance can well maintain the working stability of the hydraulic system;
Excellent oxidation resistance and extended service life;
Good anti-wear performance, fully meeting the lubrication requirements of hydraulic system;
Excellent anti-foam and air release performance;
Good low-temperature fluidity;
It has good compatibility with metal and non-metallic materials.

Product application
Coside fully synthetic fire-resistant hydraulic oil KHFD is applied to hydraulic systems close to high temperature and fire sources, such as coking, ironmaking, steel rolling, casting pipes and metal alloy die-casting in iron and steel metallurgy industry, especially suitable for working environment with temperature up to 120 ℃